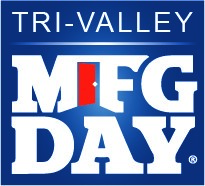 About Tri-Valley Manufacturing Day

Tri-Valley Manufacturing Day 2018 is a collaborative effort between local educational institutions, participating manufacturing businesses, and the cities of Livermore, Pleasanton, and Dublin. Tri-Valley Manufacturing Day is being held in connection with the national MFG Day initiative. Our goal is to celebrate modern manufacturing and inspire the next generation of manufacturers. Our event features facility tours and presentations at Tri-Valley manufacturers, as well as a lunch reception and exhibit of manufacturers. Selected local high school students from the Tri-Valley, students from Las Positas College, and members of the SME Silicon Valley Chapter will be attending the facility tours. These participants will also be joining the lunch reception and exhibit of various manufacturing businesses.

Visit the MFG Day national site here at MFG Day.
Event Details

Manufacturing Expo

October 5, 2018 11:30am - 2:30pm

Invitation-Only Event

4444 East Ave
Livermore, CA 94550

The Tri-Valley Manufacturing Day Lunch Reception and Manufacturing Exhibit will be held at the Cresta Blanca Ballroom of the Robert Livermore Community Center located 4444 East Avenue, Livermore, CA 94550.

Event registrations at this site: TVMFG Day.

For more information, contact Theresa De La Vega at 925-960-4049 or tbdelavega@cityoflivermore.net.